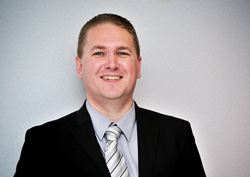 Director: Mark Fellows MAAT

Mark started his accountancy career at 17 years old by undertaking an Accountancy qualification at Sandwell College, which lead him into employment with a medium sized Walsall based Accountancy firm. This is where Mark was able to put his theoretical learning into practise.

To further his career, Mark joined the impressive ranks of a large Accountancy group, separated into various areas of expertise, where his experience was allowed to flourish and develop further.

After needing to move back closer to home, Mark joined a local firm of Accountants and like Nicola worked at the largest of their branches where there friendship blossomed.

Marks next career move was to apply for a position within a smaller but well established practise allowing him to take on a more senior role alongside the manager where he was responsible for his own portfolio of clients and all of their accounting, taxation and business needs. After 6 years of working at this firm, Mark was a very highly thought of part of the team who then helped to train others and still keeps in touch with former colleagues, in order to consult on more complex business taxation issues.

After much consideration, Mark decided to devote his efforts entirely to assist Willows with it's existing clients and to further the practises growth alongside Nicola, utilising their various expertise and varied knowledge.

Director:
Nicola Wilcox MAAT
Nicola left school at 16 to go into her first job as a receptionist for a small family run firm of Accountants who spotted her talent in Information Technology and eagerness to learn. Whilst gaining qualifications in business administration Nicola was offered a Three year Accounting modern apprenticeship through Babington Business College in Lichfield. After passing all exams first time and reaching Technician status Nicola became a full member of the Association of Accounting Technicians. Nicola believes that being taught by such a small, dedicated firm with one on one nurturing and guidance has given her the very sound foundation of techniques she uses today.
Learning everything manually and having a natural flair for computers, Nicola excelled in using spreadsheets, computerised accounts in Quicken, Quick-books, Sage & payroll packages and has also dabbled in teaching these at a local college.
Nicola's next move was to a much larger firm of Accountants where she worked at the largest of the three local branches, at which she met Mark. In time Nicola was responsible for the payroll bureau for over 200 clients, various VAT and bookkeeping deadlines, management accounts, preparing financial accounts and several audits.

After leaving to start a family in 2006, Nicola set up business on her own, offering her expertise and knowledge of bookkeeping and payroll services and later that year merged with Mark to combine their varied expertise and experience.
Company Number 05993418 (Registered in England & Wales)
Vat Number 934 8387 84

Registered Office Address
Willows Accountancy Ltd
172 Watling Street
Shorade Business Estate
Bridgtown
Cannock
Staffordshire
WS11 0BD


Telephone: 01543 574831
email us: email

Company Directors
Mark Fellows MAAT
Nicola Wilcox MAAT